(Last Updated On: March 22, 2023)
On the occasion of the 8th death anniversary of founder of Ghashful, Begum Rokeya Padak winner,  pioneer development organizer, Shamsunnahar Rahman Paran, Khatme Quran and Doa Mahfil was held on February 18, 2023 at Ghashful head office in Chittagong.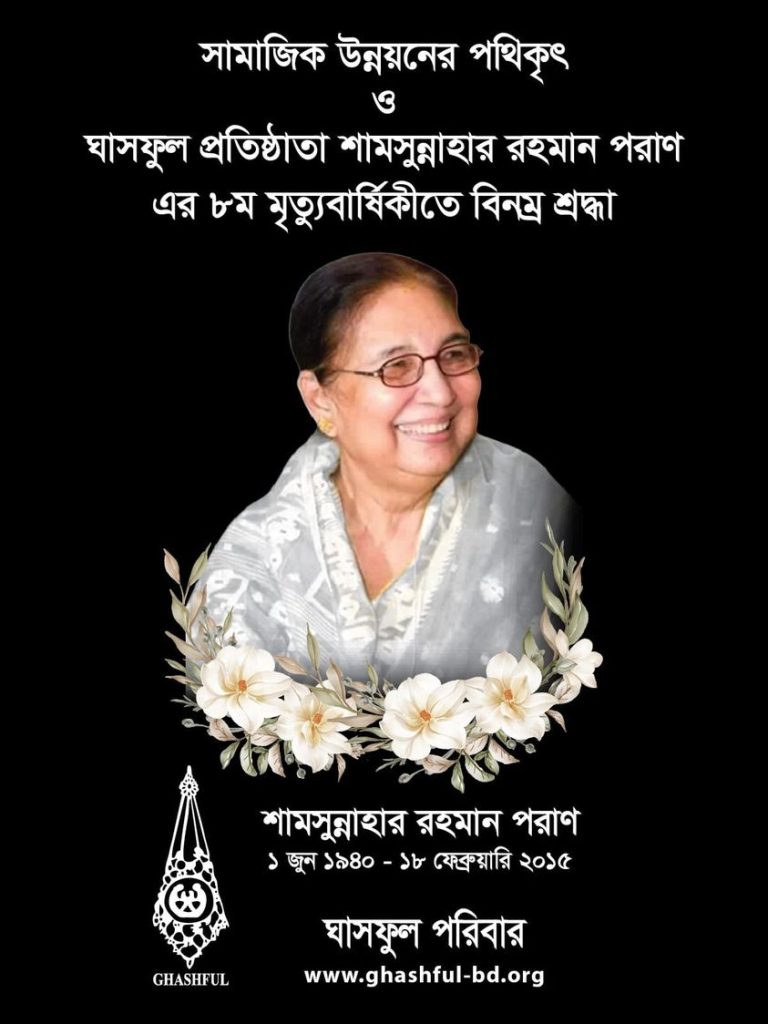 Dr. Manzur-ul-Amin Chowdhury Ghashful chairman was present at the prayer ceremony, in the presence of CEO of the organization Aftabur Rahman Jafree, Director Mohammad Faridur Rahman, Deputy Director Maruful Karim Chowdhury, Assistant Director Shamsul Haque, Khaleda Akhtar, Sadia Rahman and all the officials. Connected online were Ghashful Executive Committee member Parveen Mahmud FCA, Yasmeen Ahmed, Jhuma Rahman and Jahanara Begum.
Lions Club Chittagong Parijat Elite President Lion Md. Jamal Uddin, Lion Homaira Kabir Chowdhury, Lion Cesarul Islam, Leo Sajjad Hossain, former Deputy Director Mofizur Rahman and Bureau Bangladesh representatives were also present.
Wreath offering and Fateha reading was held at Azimpur graveyard in Dhaka and Doa Mahfil was held at Dhaka office. Deputy Director Jayanta Kumer Bosu, Area Manager Maqsud Alam Kutubi, Out of School Children Program Coordinator Md. Sirajul Islam and other officials were present.
Late Shamsunnahar Rahman Paran was born in Chittagong on June 1, 1940 and died in Dhaka on February 18, 2015. She was awarded the 'Begum Rokeya Padak' by the Government of the People's Republic of Bangladesh in 2021 for her outstanding contribution to the socio-economic development of women.