(Last Updated On: March 22, 2023)
On the occasion of Great Martyrs' Day and International Mother Language Day, 21 February 2023, a discussion meeting was organized at Evening Learning Centre under Education Support interventions of Ghashful ENRICH program. The context and significance of the day was discussed with the participation of students at total 75 educational centers in Mekhal and Gumanmardan Union of Chittagong Hathajari Upazila in cooperation with PKSF. The self-sacrifice of the brave people who fought for the mother tongue in 1952, patriotism, the announcement of the International Mother Language Day by the United Nations, the significance of accurate pronunciation, etc topics were discussed and the students and parents took part in paying tribute with flowers at the Shaheed Minar.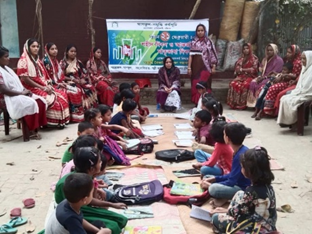 On International Mother Language Day, Ghashful organized morning march with children, wreath-laying at Shaheed Minar and drawing competition to pay tribute to the memory of language martyrs. Former students of Ghashful Second Chance Education Program, Tigerpass Colony Center participated in the event. At that time, S. M. Shah Newaz, President of Ghasful Elderly Education Center Management Committee and Area Development Committee, Program Coordinator of Education Program of Ghashful Sirajul Islam and local dignitaries and others were present.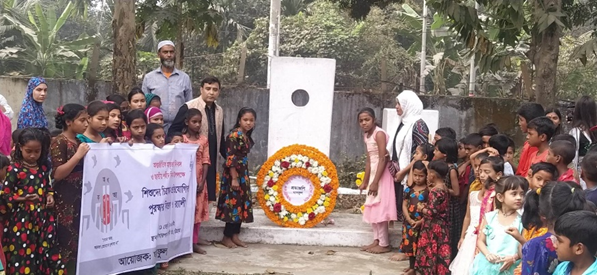 On the occasion of International Mother Language Day on February 1st, a painting competition was organized to pay tribute to language martyrs with the students of Ghashful Out-of-School Children Education program. The program supervisors, teachers and students of Out of School Children Education Program participated in the morning rally and placed wreaths at the Shaheed Minar of Mohammadpur Government High School and Begum Noor Jahan High School, Mohammadpur, Dhaka.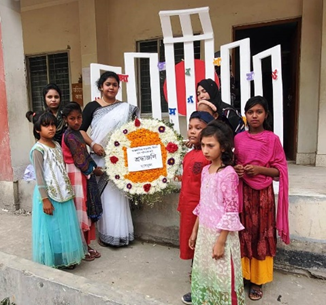 On the occasion of International Mother Language Day, tributes were paid to martyrs by the students of Ghashful Paran Rahman School. Various sports competitions were also organized on the occasion of the day.