(Background, rationale and problem analysis including local and national in comparison to local and national statistics)
Majority of youths face a variety of problems such as unemployment, lack of skills to much market demand and a general feeling of attention because the unmet needs of this particular age group. High rate of illiteracy and lack of quality education are major challenges for them. Youth unemployment results in frustration and leading them towards harmful activities such as violence, drug addiction, misuse of information and communication technologies (ICT) and in extreme cases of potential for radicalization. Absence of sound recreation, role models of emulates and lacks of vision for future are also other challenges. Many young people are being used of exploited by political parties. Involvement in radicalization process and violent extremism has emerged as a new treat for the youths and Nation as well (BBC, 2016). Another problem of youth is different kind of education being imparted to them in Bangladesh. The English medium, Bangla medium and Madrasa or religious education has created rift and social divisions among youth population. Except for some private endeavors, no significant effort has been taken to bring them together.
Bangladesh is passing through a phase called "Demographic dividend" where 60% of the population is between 16-35 years. This is a time of great opportunity as well as challenge. This situation will remain for the next 20 years only therefore Bangladesh has potential to go forward, develop as a modern progressive, inclusive democratic poverty free nation if the potential of the youth population is utilized fully. With this in mind, government has formulated a national Youth Policy to ensure favorable environment towards productive practical education, training and self-employment for the youth and bring out their dormant potentialities including leadership and responsible citizenship aiming at national progress. The project is equipped with a national plan of Action, NSPR-2, Vission-2021 and government-related objectives, both rational and relevant. The project is the main spirit of Vision-2021- an attempt to strengthen the constructive role of youth society in the formation of a non-communal and tolerant society.
Problem analysis including local and national in comparison to local and national statistics:
Youth of Bangladesh like in many other countries of the world are most vulnerable to social alienation. Bangladesh has a youth population of about 52 million, which is more 33% of total population (BBS 2015). An integrated development approach for this huge segment of the society is priority for the country as well as for the government.
According to the Labor Force Survey (LFS) 2013 Youth employment rate is 8.1% while the national employment rate is 4.4%. This survey also shows that among employed persons aged 15 to 29, those with university degree have highest rate of unemployment (16.4%) and the female employment rate of the similar group is much higher (23.5%) (BBS 2015). Bangladesh is one of the ten lowest ranked countries (Ranked 177 in 2016) in the employment and opportunity creating for youth (Global Youth Development Index Report 2016). It is important to take this youth dimension into consideration and increase engaging them main streaming policy discussions to avoid growing sense of disengagement among them which leave young people vulnerable and unable to contribute positive in society. On the other hand, not addressing need of youth may lead them towards violence and other anti-social activities. The background of Gulshan attack demonstrates that radicalization can affect in the visual of all educational level and socio-economic backgrounds. Thus, an important short and medium objective is to understand the drivers of radicalization and extremism. According to global terrorism index 2017 by institute for economics and peace, Bangladesh ranks 21 for its trend towards extremism; this is higher for Bangladesh than any previous time. Moreover, the security experts apprehend the risk of radicalization and social instability in some parts of Bangladesh due to the Rohingya influx and its consequent social impact. 
Gangs of teenage boys have become active again in Bangladesh. Using the social networking platform Face book, the gang members are threatening each other of violence. The gang members are posting photos and messages in their Face book groups to declare their presence in their neighborhood. These gangs regularly engage in unlawful activities like harassing other students, verbally abusing female students, using illegal drugs and mugging. The gang members also frequently fight members of rival gangs.  Drug addiction is becoming a social problem in Bangladesh. It creates many social offences. Consequently, the youth -the future of the nation -are running in to the depth of darkness. Young people abuse drugs due to complex social and peer groups influence, frustration, depression, curiosity, sub-cultural and psychological environment that induce the youths to take drugs. Major risk factors responsible for drug abuse are family disorganization, parental neglect, parent-child conflict, loss of spouse strife, in discipline, isolation, lack of emotional support, rejection of love, over protection, unemployment, repeated failure and personality mal adjustment and easy availability of drugs. In Bangladesh about 80 per cent of the drug addicts are adolescents and young men of 15 to 30 years of age.
A Self-reliant Youth Citizen with Integrity
Developed Young leadership and engaged them in community level voluntary activities.

Enhanced opportunities and capacity for young people to increase their income.

Enhanced the capacity of CBOs creating Youth opportunities.

Youth are addressing and countering violence extremism and radicalization
buying bitcoin cashapp reddit Output
Activity

Youth are equipped with proper life skills to contribute 

1.Organize Life Skill training for youth 

2. Regular Study circle in youth group at educational institution

3. Training on Gender & VAW

4. Meeting with College, Madrasa and university Management Committee to promote youth volunteer

5. Activate sexual harassment prevention committee in every educational institutes 

6. Campaign for Youth leadership, Drug Addiction, SVAWG, Disability facility 

7. Exposure   Visit (in country )

8. Best practices and documentation Project Completion Report-Publication

Youth seek support to understand and address agents and drives of extremism

.

1. Situation analysis workshop to identify drivers of extremism  (in each Thana)

2. Ward & educational institution session on drives of extremism

3. Misuses ICT/ mobile Session

4. Religious leaders Meeting (Harmony)

5. Dialogue with Law enforcement agencies on resent youth situation Drug, Human trafficking, Extremism and radicalization

Youths have improved skill of rationale decision making.

Youths are capable of logical thinking and engaged in constructive debate.

1. College, university and Madrasa -based debate competition

2. Centrally debate competition

3. Formation of youth Debate group

Youths received vocational training on different potential trades.

1. Vocational training- Electric wiring, mobile servicing, hotel management, tailoring & Industrial Sewing etc.

2. Vocational Training ICT training

3. Established Vocational Training Centre

Youths are linked with job market and income opportunities.

Annual job fair and youth gathering

Dialogue with employers and training providers

Developed skill on sustainable livelihood management. 

Meetings with different levels of GO & NGO stakeholders

Enhanced leadership skills among youths.

1. Leadership development training for youth forum members

2 News Letter Publication (Half yearly)

3.  Dialogue on youth issues in television and social media

4: Develop IEC materials: Calendar Youth issues stickers, poster

More engagement of youth in social and cultural activities.

 

1. Theatre Festival about Youth issue

2. Centrally School, College, University Madrasah-based annual sports and cultural competition 

3. Volunteerism -Plantation, Cleaning of city Roads and bazaar & Anti-drug events

4. Sampreeti Uthsob at community/ educational institutions

5. Human Chain on Peace and Social Harmony

6. Oath taking at educational institutions

7. Interactive events that promote social cohesion (Picnic)

8. Interactive events that promote social cohesion (Taking foods with socially excluded groups etc.)

9. Interfaith dialog at ward/ union/ upazila/ district level

Youth forums are activated at different level.

1: Formation of Thana/ ward-based Youth forum

2. Formation of central Youth committee

3. Organized monthly life skill session

4: National Youth days celebration-  

5. Youth Forum Quarterly Meeting 

6 Project Briefing & Dialogue with CCC Mayor, Councilor and DC & other Stakeholders

Youth Parliament speaks on behalf of the need of youths

1

: Organized Youth Congress & youth parliament

Youths learn use of social accountability tools to ensure responsiveness of relevant public institutions. 

1 : Interface dialogue with Dept. of Youth

2.Youth orientation on SA Tools (Community score card) through Life Skill Sessions

3. Orientation RTI through Life Skill Sessions

4. Dialogue on youth issues in Television and Social Media
Description of each major activity:
leadership capacity development

Inclusion of young people in constructive work

Community capability development to prevent extremism

Creating mass awareness in the prevention of extremism

Establishing social wealth among various groups of society

Organize local people to prevent extremism

Creating opportunities for proper religious interpretation, public awareness and economic development

Empowering young people to practice harmonious and tolerant behavior
Project implementation strategies:
Program priority areas:
Developed Young leadership and engaged them in community level voluntary activities.

Enhanced opportunities and capacity for young people to increase their income.

Enhanced the capacity of CSOs & CBOs creating Youth opportunities.

Youth are addressing and countering violence extremism and radicalization
Stakeholders of the project are
: 
Student, Teacher, SMC, CMC, MMC, University authority, Community Club Management Committee (CBOs), Ward Councilor , City Mayor, Department of Youth Development, Department of Child and Women Affairs, Department of Social Welfare, Technical Education center-GoB, religious leader, Media, Mental Health Care support activist, Self-help group, Legal Aid Support organization, Youth Volunteers Group, Debating Society etc.
Types of stakeholders and justification of involvement with the project: 
Stakeholder of the project are : Student, Teacher, SMC, CMC, MMC, University authority, Community club management committee, Ward councilor , City mayor, Department of youth GoB, Department of child and women affairs, Department of Social welfare, Technical Education centre,  GoB, religious leader, Media, Mental health care support activist, Organization,  Lawyers and Legal aid support organization, Youth volunteers' group and Debating Society etc.
Educational institutions are the vital structure of our society to develop project targeting groups youth generation to be an active citizen of our country. The perception about youth needs to undergo a change, from the present negative to a positive one. Their contribution should be evaluated, recognized and honored. Terrarium and Violence and discrimination are symptoms; the real issue is respect, dignity and status, unless youth are accorded by the terrorist group in our country. The entire stakeholder actively role to reduce youth generation negative behavior at project targeted area. Education institutions management authority need to provide the information of weakness of community environment and any sorts of violence at community level and education Institutional and Social Development Committee will pursue and pressure to youth for ensured through their active participation in improving institution conditions help by respective managements.
Linkages with relevant national and international instruments including specific goals and targets of SDG: 
Bangladesh is now in the journey of achieving the Sustainable Development Goals (SDGs) by 2030. The core essence of the SDGs is to Leave No One Behind (LNOB). The goals and targets of the SDGs are ambitious and interconnected. The 2030 Agenda identifies youth as one of the vulnerable groups which at the same time have the potential to arise as the driving force of any development approach.
The SDGs recognize the need of providing a nurturing environment to the youth generation through ensuring quality education and training, and decent jobs. So that they might realize their rights and capabilities. Achieving this global agenda will require the knowledge, innovation and enthusiasm of the dynamic youth force. It is necessary to have strong and effective partnerships between young people and all implementing stakeholders. 
The 'Youth' as the key actors of delivering the SDGs are facing various challenges of the implementation process. The youth are still experiencing discrimination, limited political inclusion, poverty, limited access to quality education, decent jobs, proper health systems and sanitation etc. Most importantly they are not completely aware about their rights, opportunities and responsibilities. These challenges need to be addressed to smoothing the SDG journey
The project is equipped with National Youth Policy, National plan of Action, NSPR-2, Vission-2021 and government-related objectives, both rational and relevant. The project is the main spirit of Vision-2021- an attempt to strengthen the constructive role of youth society in the formation of a non-communal and tolerant society.
Identification of gender dimension in proposed project, type of benefits women receives from this project:
50% of total rights holders are girls with youth and special focus on sexual harassment.    
The proposed initiative YES contributes fully and partially to protect human rights and reduce gender-based violence against women. Firstly, it will improve the awareness level at institution and community level. Secondly, 36 educational institutions will adopt and enact Anti- Sexual Harassment Policy as per Government rule, 20 nos. ward of CCC will be constructively engaged and the initiative will visibly empower at 20 youth corners well be established. 
The initiative is very much contributory to gender-justice for girl with youth. In 20 wards 20 Social Development club of youth will be developed where 50% members will be girl with youth and 60 girls with youth leaders will lead those groups. In 36 educational institutions a gender Friendly Code of Conduct and policy will be developed, practiced and monitored. The project will emphasis on recruiting female staffs and it will ensure at least 30% of female staff at all level.
Inclusion and diversity aspects considered in the project: 
Young people in Bangladesh suffer from discrimination in various ways, education system is also one of the major educational institutions in Bangladesh, and there is also Madrasa education, due to which the young society is confused and frustrated. We are involved in this project due to the problems of mental development, fundamentalism and terrorism of all types of educational institutions. We have taken initiative to resolve the problems.
Attempts have been made to combine youth and girl with youth including parsons with disabilities (PwD's), proper interpretation of religion of all religions, and real applications. There is a plan to work in a coherent society through social and cultural activities in the development of the youth, their joint ventures and institutional chief and SMC/Management authority and others together to prevent all forms of extremism and violence towards youth with disabilities and girls with youth.
Direct beneficiaries: 
Direct beneficiaries = 5000 (Age between 16-25 in Institution Level & 16-35 in Community Level) 
04 Universities                           =1000 
10 Colleges                                                                      =1900
02 Madrasas                                                                   = 600
———————————————————————————————-       
                                                  Education Institutional             = 3500
51 Community CBOs (Club Based Organization)         = 1500 
———————————————————————————————— 
                                          Total Direct Beneficiary                  = 5000
Program Highlights 
Youth Conference of Ghashful YES Project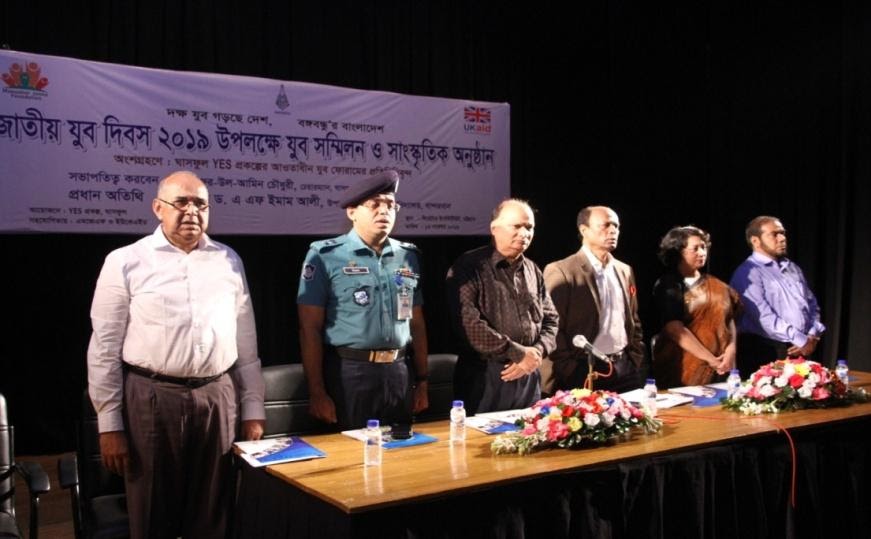 The youth society can play a vital role in assuring the sustainable development goal- YES project implemented by Ghashful with the help of Manusher Jonno Foundation organized a colourful youth conference and a cultural event at the Theater Institute Auditorium on 13th November 2019 to celebrate the National Youth Day- 2019. Prominent Sociologist and Chairman of Ghashful presided over the event. The respected Vice Chancellor of Bandarban University Professor Dr. A F Imam Ali was present as the Chief Guest. Among the special guest the Deputy Director of The Department of Youth Development Saleh Ahmed Chowdhury, Assistant Director of Department of Social Services, Chittagong  wahidul Alam, Deputy Commissioner of Police, North (CMP Office) Bijoy Boshak, and  Director of Chittagong Institute of Fine Arts Dr. Shaila Sharmin. CEO of Ghashful Aftabur Rahman Jafree gave the welcome speech. In his speech he thanked everyone for making time and to join the conference. The Chief Guest Prof. Dr. A F Imam Ali said in his speech that Youth is the main strength of our nation and makers of the glorious history of the country. Youth society can play a vital role in achieving the Sustainable Development Goals at the desired level and this is why it is very much important to involve the youth in all our development policies. Special guest, Deputy Commissioner of Police, North(CMP) mentioned in his speech "Our earnest effort is to keep the youth in a beautiful and safe environment, so that they can build a happy and prosperous Bangladesh from their aspirations. Chairman Prof. Dr. Monzur-Ul-Amin Chy said Ghashful YES project can combine youth-based multi-faceted work at all levels, public and private, to build a conscious and active youth society. Representatives of various ward, madrasa, college and university based youth forums of the Representatives of various ward, madrasa, college and university based youth forums of YES project were also present at the conference. The conference ended with a pleasant cultural event. 
"Self-conscious youth" – Workshop on Influence and Perspective Analysis of terrorism and Militancy-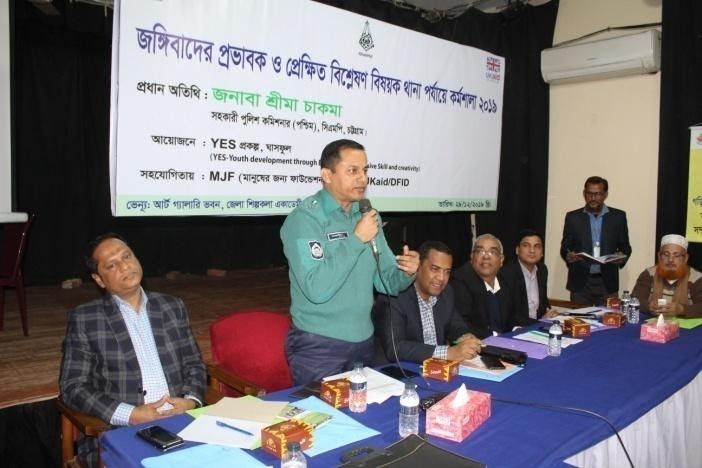 YES project, which is implemented by Ghashful with the help of Manusher Jonno Foundation (MJF) organized a workshop on 29th December at Shilpokola Academy Art Gallery regarding "Influence and perspective analysis of terrorism and militancy". Officer in charge of  Kotwali Thana Mohammad Mohsin attended the workshop as the Chief Speaker while the Deputy Director HR and Admin of Ghashful Mr. Mafizur Rahman presided over the meeting. Among many others attended the program was the Counselor of 15 No. Ward Mohammed Giasuddin, Counselor of 27 No. Ward H. M. Hossain, Counselor of 33 No. Ward Hasan Murad Biplob, Mohammed Ashraf Uddin from Social Service Department, Representative from Youth Development Department Mohammed Jahan Uddin, Deputy Director of CODEC Mr. Komol Sen Gupta, Additional Registrar of Southern University Dr. Mohammed Saifullah Mir and Mohammed Abu Taher , Lecturer at Baitusharaf Kamil Madrasa. Omor Shadhon Chakma , Coordinator of YES project made the opening remarks. Guest Speaker Mohammed  Mohsin mentioned in his speech that the whole world is wrapped in the evil hands of extremism . This is not ethnic or religious issue. We must stand up against this militancy and to do that we would need our youth generation to be aware of it . He suggested the youth representatives at the workshop to make the right choice and let the authority know if they see or hear anything wrong or suspicious. Mr. Mafizur Rahman said in his speech that the goal of our YES project is to motivate the youth population to stay away from all kinds of negative activities and prepare them as competent, efficient and conscious citizens for the society. We all should play a vital role in this. Representatives of many Community Based Organization, GO and NGOs including the beneficiaries of our YES projects were present at the workshop. 
Sharing Meeting With GO-NGO Project's Stakeholders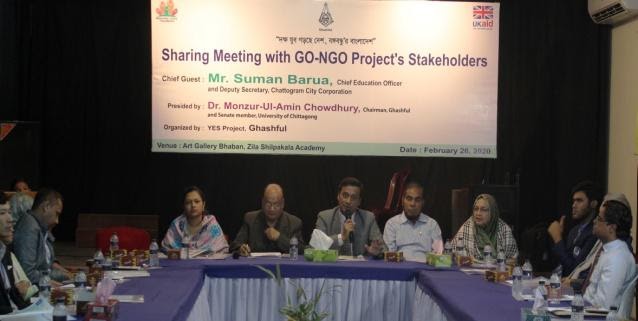 "Charity begins at home and justice begins next door – Charles Dickens ".Initially we need to educate our children about moral values from the family. We can ensure the development of our country by educating our youth with moral value and technical skills. Life oriented education will help our youth to play a significant role in developing a corruption free and ethical society. Invited guests at the sharing meeting arranged by YES project expressed their views regarding our youth. Shuman Barua, Chief Education Officer of Chittagong City Corporation (Deputy Secretary) was present at the sharing meeting as the Chief Guest at the Art Gallery Auditorium of Chattogram Shilpokola Academy On 26th February. The meeting was chaired by the Chairman of Ghashful Dr. Monzur-Ul-Amin Chowdhury. Among the invited guests there were Paritran Talukder Asst. Senior Police Commissioner of Chittagong Metropolitan Police(Bayejid Bostami Zone), Saleh Ahmed Chowdhury the Deputy Director for the Department of Youth Development-Chattogram, Emdadul Islam Mithun the Asst. Director of Department of Narcotics Control-Chattogram, Taslima Akter Asst. Professor from Chittagong University Institute of Fine Arts, CEO ELLma Jesmin Sultana Paru, Deputy Director of Codec Komol Sen Gupta, District representative of Brac Mohd. Nazrul Islam Mazumder, women affair officer of Lohagara Upozila Nita Chakma, Principal of Kapashgola City Corporation Girl's College Monowara Jahan Begum, Mohd. Mostafa Kamal Chittagong  Commerce College, Ward Counselor of 15no. Bagmoniram ward Giasuddin, Jasmin Akter -Asst. manager Publication of Ghashful. YES project coordinator Amar Shadhon Chakma gave the welcome speech. A digital presentation of the YES project was done by Project manager Robiul Hassan. Master of ceremony was Nibedita Pal, a youth volunteer. Many other GO and NGO representative were present at the meeting.
(Dokkho jubo gorchey desh, Bongobondhur Bangladesh)

'Skilled youth building the country, Bangabandhu's Bangladesh'. On the occasion of National Youth Day a discussion meeting and prize giving ceremony was arranged by Chittagong District Commissioner Office with the help of District Commissioner Office and Department of Youth Development at the Chattogram Circuit House Auditorium on November 1st, 2019. Chattogram District Commissioner Mohd. Abdul Mannan attended the event as the Chief Guest. In his speech he mentioned that skilled and efficient youth can play a vital role in building a better society and a successful country. Our youth society is stepping forward due to the sincere and relentless effort of the government. We need to utilize our youth positively in order to maintain a continuous development of the country. The theme of this year is 'Skilled youth building the country, Bangabandhu's Bangladesh'. ( Bangla version by Jasmin). A.Z.M Sharif the Additional District Magistrate – Chattogram and Mohd. Shahabuddin Asst. Professor of accounting department from Chittagong University attended the meeting as special guests. Ghashful participated at the meeting along with other GO-NGO representatives. 
Human Chain of YES Project in joint venture with BYLC- Chattogram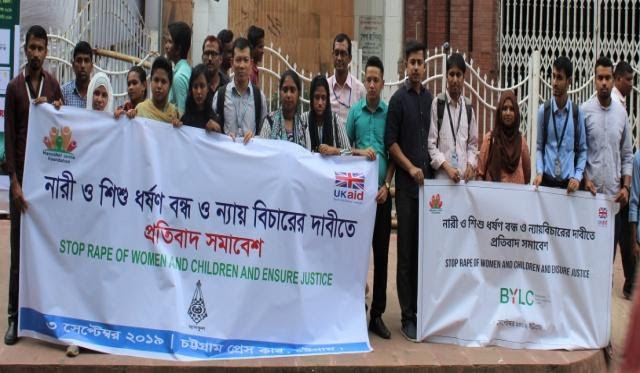 YES Project implemented by Ghashful with the help of Manusher Jonno Foundation organized a human chain and a protest rally demanding an end to rape of women and children and justice at Chittagong Press Club on 3rd September 2019. Conscious citizens including teachers and students participated in this.  Thru this everyone was urged to be vigilant in stopping the ongoing rape of women and children and ensuring justice.
Bilateral Memorandum of Understanding signed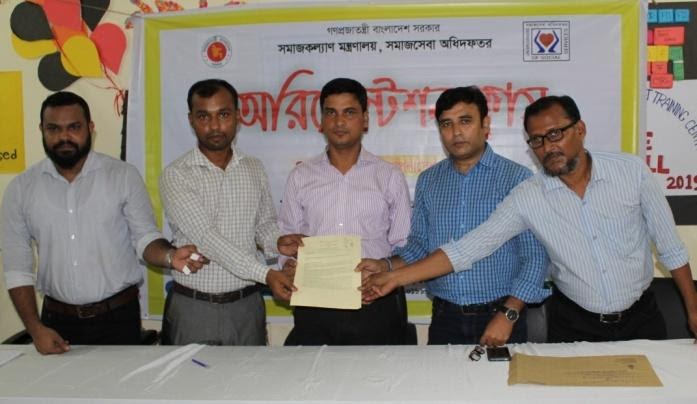 YES Project implemented by Ghashful with the help of Manusher Jonno Foundation signed a bilateral memorandum of understanding on 28th August with the District Social Service office – 3 as a part of the program to provide technical training assistance to the beneficiaries of the YES project. CEO of Ghashful Aftabur Rahman Jafree on behalf of Ghashful and Chief Training Officer for the District Social Service office – 3, Mohammed Arif signed the Bilateral Memorandum of Understanding. The District Social Service officer from the District Social Service office – 3 Mohammed Ashraf Uddin, Project coordinator of Ghashful Second Chance Education Sirajul Islam, Program Manager of YES project Robiul Hassan, Project officer Gautam Kumar Sheel , Jashimuddin were present at the  event including many of the   project beneficiaries.
Campaigns of Volunteerism and tree plantation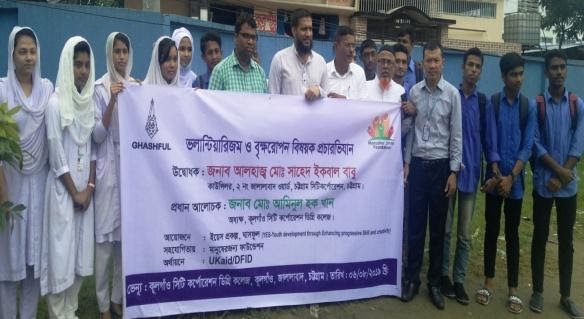 YES project implemented by Ghashful in collaboration with Manusher Jonno Foundation arranged a campaign on volunteerism and tree plantation at premises of Kulgaon City Corporation Degree College on August 6th , 2019. Tree plantation program was inaugurated by the local ward Counselor Shahed Iqbal and the Principal of Kulgaon City Corporation Degree College Aminul Islam Khan. In a discussion meeting Principal Aminul Islam expressed his gratitude for being able to be a part of the youth development activities. Local Counselor Shahed Iqbal mentioned in his speech that the activities of YES project are very youth friendly and creative. He hoped such activities will have positive impact on our youth society. Members of their governing body, teachers and students were present at the event.  
Campaign for Dengue Prevention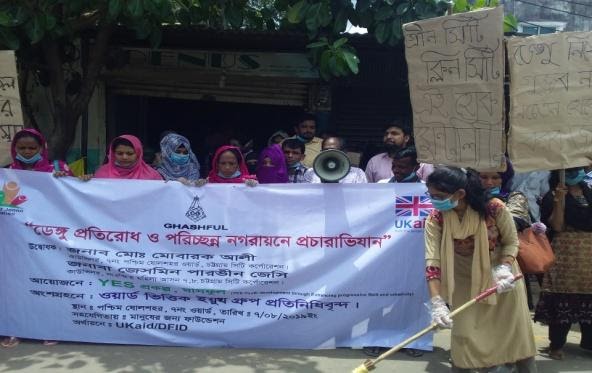 On August 7th 2019, YES project organized a campaign on volunteerism, dengue prevention, and clean urbanization at East Sholoshohor (7no. ward) of the city as a part of their public awareness and volunteer program. As the part of the event a rally with public awareness placard and festoons, cleaning campaign was organized at Hamzarbag Jameya Ahmedia road and a road meeting at Hamzarbag Rail Crossing  Chowmohoni under 7no. ward.
Workshop on Influence and Perspective Analysis Identify the Drivers of Extremism-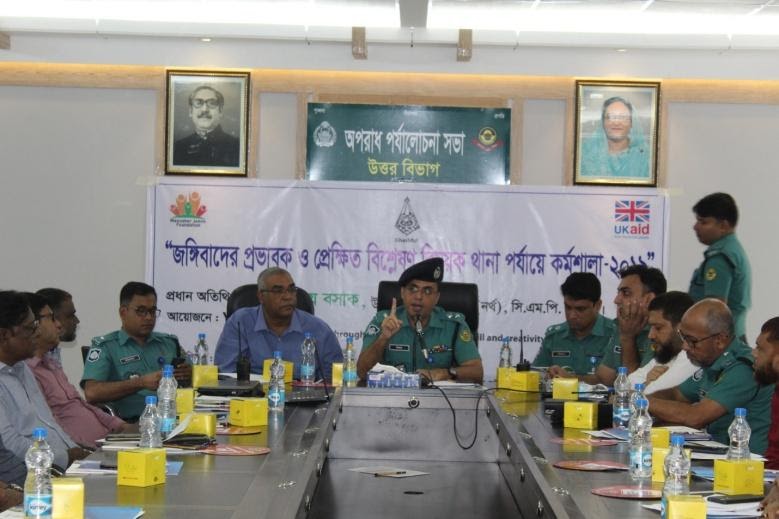 Ghasful's YES project organized a workshop on "Influence and Perspective Analysis Identify the Drivers of Extremism" held at the conference room of the Deputy Commissioner of Police(North)on 24th September,2019.Deputy Director of HR and Admin of Ghashful Mafizur Rahman presided over the meeting while the Deputy Commissioner of Chittagong Metropolitan Police(North)Bijoy Boshak BPM,PP M attended the meeting as the chief guest. Project coordinator Amor Shadhon Chakma presented the welcome speech and the project concept note along with the journey of Ghashful at the workshop. Chief guest mentioned in his speech that militancy is not a problem for any particular region or country. It is a multinational and multidimensional problem. Today the whole world is a victim of militancy. Its boundary is not limited to any religion or nation. The government of each country has taken action against this militancy. Our government has also taken zero tolerance policy against militancy and terrorism and being vigilant about the matter. Bangladesh Police has already conducted several active operations against extremism, which are Claimant of praise. We want to use this praise as a tool to play a more active role in building a secure and beautiful future. Bangladesh Police expects uninterrupted cooperation from all levels. The chair of the meeting Deputy Director – HR and Admin of Ghashful Mafizur Rahman said in his speech that we all want a peaceful society and a country and to achieve that we have to work simultaneously shoulder to shoulder against militancy. First of all we need to come forward and aware the youth society about the regarding matter. He finished his speech by thanking everyone for joining the workshop. Asst. Commissioner of Police(North) Debdooth Mazumder, District Information Officer Syed Hasan, Office In Charge of Chandgaon and Panchlaish Thana Abul Kalam and Abul Kashem , CCC ward counselor Shahed Iqbal Babu and Kafiluddin Khan and Deputy Director of Islamic Foundation Mohammed Nuruzzaman  were present at the meeting. Besides, many GO-NGO representatives, project beneficiaries, representatives' of CBOs under different ward attended the meeting. The program was conducted by Second Chance Project trainer Zubaidur Rashid and youth volunteer from YES project Nibedita Pal.