Ghashful Founder Mrs. Shamsunnahar Rahman had dedicated her life to build a beautiful and peaceful community without inequality where everyone's basic rights would be ensured. She would be immortal through her dream and all her generous activities.
To follow her legacy Ghashful introduced "Paran Rahman Memorial Award" to acknowledge and applaud some handful of enlightened people in our society who are working against all odds to bring positive changes in their communities.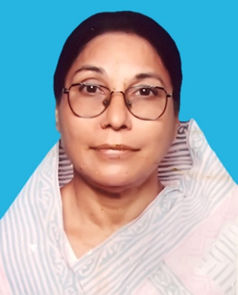 Razia Samad Dalia was born in 1st December, 1943. Her father was Khan Bahadur Fazlur Rahman, a very prominent political leader in Sherpur and former Chief Whip of Pakistan Parliament and her mother was Lutfunnesa. She completed her BA in 1964 and got married in that same year. She started her career as a teacher after the death of her husband in 1983. In the year 1990 she left the luxury life in Dhaka and moved to Sherpur because of her dedication to serve her local community. With self finance she established Upama School and Upama Hospital in Sherpur. In 1983 she started Abdus Samad Memorial Scholarship, established Khan Bahadur Fazlur Rahman Foundation in 1995 and Sherpur Diabetes Shomiti in 1997. She also holds important positions in several national, social and service organizations at the same time.  We convey our gratitude and congratulation to the compassionate, humane social worker Mrs. Razia Samad Dalia.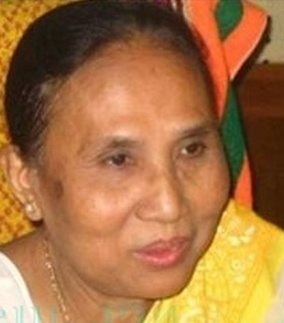 Monjulika Chakma was born on 20th January, 1947 in Rangamati District of Chittagong Hill Tract. She is the 3rd child among ten children of Late Kali Ratan Kheesha and Late Panchalota Kheesha. She started her career as a teacher in a local school right after passing her matriculation in 1961. In 1965 with an investment of only 500 takas she established her own business named "Bain Textile". Her handicraft company created new horizons in weaving industry. She completed her BA from Rangamati College in 1973.  Bain Textile is now exporting their handmade goods to many foreign countries including United States of America, France, Japan, Malaysia, Australia and many more. Getting inspired by her there are now more than 35 handicraft stores in Rangamati HillDistrict. In 2009 with the initiative of UNDP and CHTDF she presented a joint research report "Strong Backs Magic Finger" with Dr. Niaz Zaman, a teacher and a researcher from Dhaka University which was later published by Independent University of Bangladesh in 2010.  She is not only a successful entrepreneur but also play a vital role in her family and social services. Congratulation to Manjulika Chakma, the majestic, hardworking and empowered women of our society.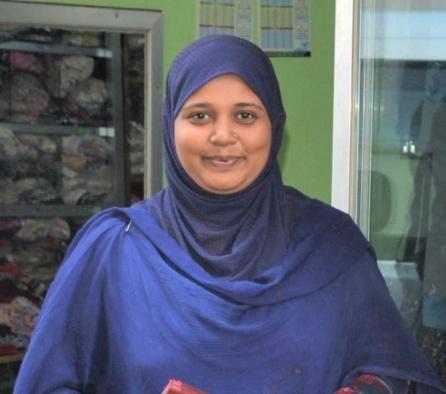 Momena Begum, the daughter of Majnu Sarkar and Rehana Begum was born in 25th December, 1984 in Murad Nagar of Cumilla District. She started her struggling career working in garments factory right after she appeared for the S.S.C examination in 2000. She got married in 2003 and became a mother in 2004. After she had her first born, she had to quit her job to take care of her child. But she always wanted to do something on her own. In 2005 she borrowed 15 thousand takas from Ghashful's micro credit program and started her own business. Initially she started selling baby cloths and ladies inner garments and stated to climb the ladder of success little at a time. Around 2009 she established her own store M.T. Fashion. By 2009 Ghasful has extended a helping hand by paying eight lakh taka at different stages for the production of her own products. In order to market the products and fulfill the social responsibility she created an amazing marketing network with local woman from low income families, lady hawkers, parents waiting at the school gate, garments workers and even local beggars.  At present, this successful woman entrepreneur plays a vital role in improving her social status and family well-being by earning three to four lakh takas per month. Ghashful congratulates the struggling women and the role model of success Mrs Momena Begum for being the inspiration in the future to many marginalized women.
Begum Rokeya
A prominent social worker and women leader in Netrokona District. She is the founder and Chief Executive of Shavolomvi Unnoyan Shomiti (SUS). She has vast experience on national and international development issues. Mrs Rokeya started her carrier in 1969 with Netrokona Government Girl High School. This is notable that she had to got married in class eight and obtained BA, B.Ed degree by dint of her own effort later on. Now she is national and internationally renowned for her remarkable social development initiative.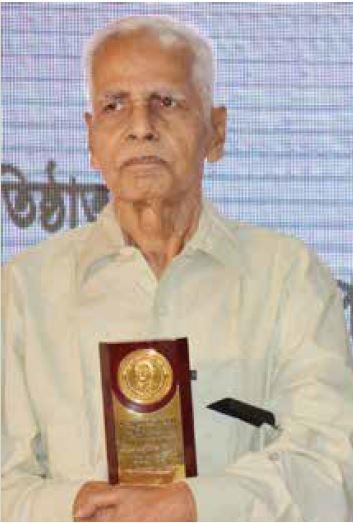 Dr. Shuniti Vushun Kanongoo
Professor Kanongoo was born in 1934 at Boalkhali Upazilla of Chattogram District. He passed BA (Hons') and MA from Calcutta University in 1965. He joined at Dhaka University as provisional lecturer. Before this he worked with Sir Ashutos college for few days. Mr Kanongoo awarded his PhD under the supervision of famous historian Abdul Karim. In 1975 Mr Kanongoo started works with History Department at Chattogram University and got retirement in 2001. During his lifetime he has been engaged with research and innovation. He has many books and article which enriched our culture and history. Some famous publications are – A History of Chattogram (Vol I & II), A History of Chattogram Hill Tract, The Chattogram Revolt 1930-34, Chakma Resistance to British Documentation, Banglar Itihash (3 Parts), Banglar Shashontantrik Itihash (2 parts) etc. Professor Dr. Kanongo awarded Shamsun Nahar Rahaman Paran Memorial Award 2017 for her invincible contribution in education and research.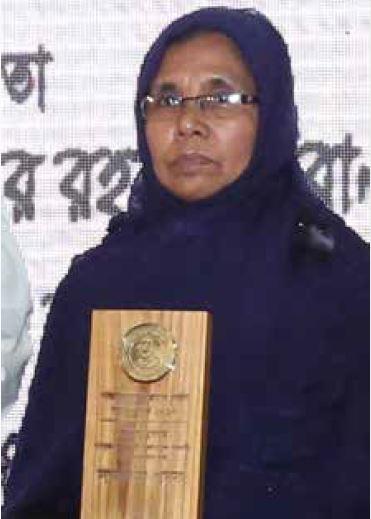 Jannat Begum
She is an inhabitant of Agrabad Bapari para, Chattogram. She started conjugal life from childhood as a second wife of Mohammed Shah Alam. Young Jannat had been nurture five children of her husband from first wife. She added more two boys and one girl in her life. Unfortunately, she lost her husband just before her last delivery. Through a struggle in her life she becomes self-reliant using Loan amount from Ghashful. Now she possesses 16 rental houses and earns twenty-six thousand taka per month. Her graduate elder son is working in a Private Company and younger son is a student of Chattogram University.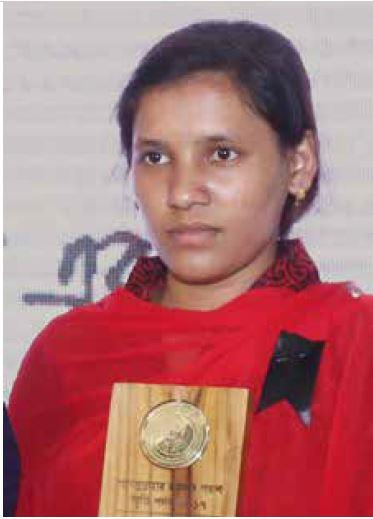 Rumi Akter
Rumi was born in 1994 at Kolagaon Union of Patiya Upazilla under Chattogram District. For her parents' financial conditions, she completed class three from Ghashful Non-formal Primary Education Program (ESP) as dropout student. Then She passed SSC from local PDB high School with GPA 5 and HSC from Anayet Bazar Mohila College Chattogram with 4.90. Now She is a student of B.Sc. (Hons') in Physics third year under Chittagong University. Besides education Rumi is working as Facilitator of that ESP which she passed. She is the role model of dropout student in her community and inspired other. Ghashful select her for Shamsun Nahar Rahaman Paran Memorial Award 2017 in said area specially for her inspiration of education.