COVID-19 RESPONSES FROM GHASHFUL
Spreading Awareness and Building Resilience
The daily activities of Ghashful and overall growth of the organization faced severe challenges since the government declared General holiday across the country from March 26, 2020 in order to control the epidemic caused by COVID-19. The communities we serve had to fight with tremendous hardships due to the pandemic – from the risk of contracting the virus itself and its effect on overstretched health services, to its consequences on income, schooling and livelihoods systems. 
We are adapting to respond to these new challenges while ensuring that we continue to work towards our vision of a fair world for everyone.
Preventive measures and awareness building activities
Following government's guideline, Ghashful took preventive measures and initiatives to raise awareness about this epidemic. From the second week till the end of March all the Ghashful's programs, project officials, customers, beneficiaries were made awarethrough sending official emails, leaflets, and training them to maintain social distancing and creating small groups at the workplace to confront this deadly virus. All the offices were provided with adequate handwash and hand sanitizers.
Description of the initiatives

Number

Numbers of beneficiaries

Name of the working areas

Distribution of leaflets

Every officer-employee and the field officer of the organization has raised awareness and read the warnings on the leaflet to the members of their Shomiti(Association) and to its beneficiaries.

6000

60,000

Chattogram, Feni, Cumilla, Dhaka, Naogaon and Chapainawabganj

Awareness Training and Discussion

All officers-employees and the leader of the beneficiaries in 12 working areas, 2 project offices and head office of Ghashful were trained regarding what needs to be done in case of virus-related disaster through building awareness, discussing and training.

20

2500 (approximately)

Chattogram, Feni, Cumilla, Dhaka, Naogaon and Chapainawabganj.

Distribution of Handwash and Hand Sanitizer

Adequate amount of handwash and hand sanitizers were distributed in every office of Ghashful in its working areas

–

1000 (Approximately)

Chattogram, Feni, Cumilla, Dhaka, Naogaon and Chapainawabganj
Campaign On 31 Directives of The Hon'ble Prime Minister
The organization continued their campaign through social media and email by disseminating the 31 directives of the Hon'ble Prime Minister regarding Coronavirus and COVID-19 pandemic, and also provided assistance to the general public to stay home and stay safe.
Number of beneficiaries- 1000 (Approximately)

Working areas- Chattogram, Feni, Cumilla, Dhaka, Naogaon and Chapainawabgang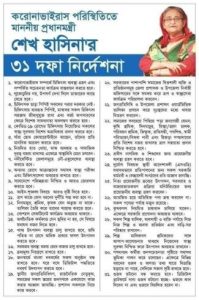 PPE for health workers, fertilizers and seeds for the farmers
In a joint venture of Ghashful, IDF, and OPCA (Organization for the Poor Community Advancement), PPE was distributed among the rural physicians, and UP health providers and fertilizer and much-needed seeds were distributed among the farmers in Mirsharai Upazila. They distributed food among the special need and people with disabilities in that area as well. This event took place on April 22nd, 2020 at Mastan Nagar of the Upazila. 
At the event 1200 PPE were distributed among rural physicians, UP health providers, administrative people and journalist. Food was distributed among 500 special need and autistic people, and vegetables, paddy seeds and fertilizer were distributed among 500 poor farmers. Ghashful donated 50,000 BDT (Fifty thousand) for the event.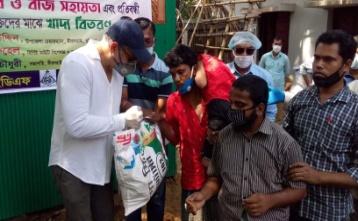 With the assistance of Microcredit Regulatory Authority, the officers and employees of Ghashful donated their one day's basic salary that amounted to 1,71,152 BDT (One lakh seventy-one thousand one hundred and fifty-two Taka) to Prime Minister's Relief and Welfare Fund in order to strengthen the government activities to help the unemployed poor marginalized people during this epidemic.
PPE and dry foods distribution among marginalized
With the initiative of Ghashful, Personal Protective Equipment (PPE) was distributed among 50 UP officers and employees as well as health care and food aid to 100 marginalized farmers from ethnic minorities.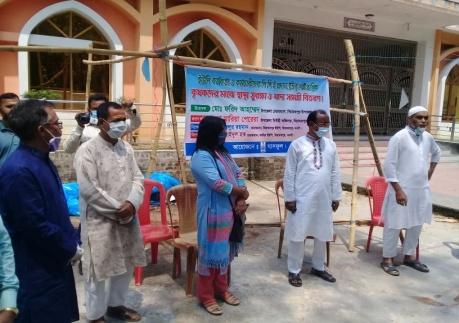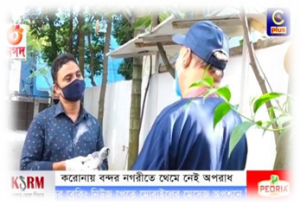 During the lockdown days, Chairman of Ghashful and Sociologist Dr. Monzur-Ul-Amin Chowdhury campaigned on "stay home, stay safe" through Ghashful's staffs and various media. He called on all to deal with the worst epidemics of the century with utmost caution and patience. During the campaigns, he was interviewed twice as a prominent social researcher by the C-plus TV channel.
Ghashful Paran Rahman School during the COVID-19 pandemic
The COVID-19 pandemic and lockdown measures in Bangladesh have led to the closure of most of the educational institutions including Ghashful Paran Rahman School. Due to COVID-19 the school had to close their doors and because of this closure the school have been facing critical financial crisis. It is not possible to collect school fees due to non-attendance of students at school, but school rent and teacher's salary and other expenses have to be paid. As a result, teachers and office attendants' salaries have been reduced by 20% and School Principal's salary is reduced by 30% instead of receiving yearly increment of 20%, which affected their socioeconomic life. As school salaries are the only source of income for these people, all these low-income professionals are in trouble. 
But the students are suffering the most due to this school closure. As the children cannot come to school, they were being deprived from various life lessons. The only way to persist providing these benefits to the children through the pandemic is by introducing online home schooling, but both teachers and students are having a hard time adapting to it. The worst sufferers are students who do not have access to internet and internet-enabled devices such as computers and smartphones and who do not have proper study space at home. Also, the non-cognitive skills and the level of knowledge of the parents also matter a lot. It is hard to help the children with something that the parents may not understand themselves. There were 220 students, during pandemic 80 students have been traced out and joining online schooling.
Ghashful Paran Rahman School has decided to take few measures as follows:
Contact the parents and the students

Make a full list of reached and unreachable parents 

Visit the parents and the neighbours following the safety measures

Set up training sessions for the teachers initially for taking online class.

Set up training session for teacher to take classes over the phone via conference calls.

Set up training sessions for parents and students on requirement basis.

Set up training for teachers to create lesson plans for online. 

Set up Wifi connection in school premises so that the teachers will not have to use their Mobile Data or pay for Wifi connection. (Maintaining social distance and other safety measures).

Inform the parents and the students about the online classes through Whatsapp. 
First meeting was held on 8th of August with the teachers to find out their needs regarding performing online classes and on the 10th of August first training was organized by Ghashful Head Office. The training was about how to connect with students through Whatsapp, how to connect with the student through conference call (five person at a time) who did not have smart phones, and how to share lesson plan with them online and over the phone. On August 16th, 2020 the school started its first online sessions via Whatsapp. But only 23 students out of 223 students could join the online classes. By the end of the week the number was 49 students in total. The attendance was less than 25%. Most of the students were unable to join the class because either they did not have the proper access to online materials such as smart phones, mobile data or suitable online connection or they had to migrate back to their village due to job loss or other financial crisis of their parents. Taking classes through conference call was not cost worthy because the teacher who would make the call and will connect to others will have to pay the bill which was pretty expensive for the teachers whose salary was reduced 20% due to the pandemic. This initiative seems bleaker due to lack of proper resources and financial condition.