grande vegas casino free spins Comilla's heroic freedom fighter Afia Khatun Khanjani died of old age on December 23, 2019 in Bagichagaon. The Ghashful family is deeply saddened by her demise. It is worth mentioning that with the dedicated efforts of the late Samsun Nahar Rahman Paran, the founder of Ghashful, it became possible to rescue this tortured woman from an abandoned barn and get recognition as a freedom fighter through a long struggle. Khanjani had a very melancholic past. In 1971, during the liberation war, Afia Khatun Khanjani was brutally assaulted by the Pakistani army. At the end of the war when she returned home from the camp of the Pakistani army, she was expelled from the village as an ill-disciplined woman. But this khanjani saved the lives of hundreds of people in the area during the liberation war with all her belongings. She was later evicted from the area and rejected by her community. Paran Rahman rescued Khanjani in a very vulnerable condition at that time. We seek the forgiveness of the soul of the heroic freedom fighter Afia Khatun and extend our condolences to her family.
Bassum ivomec usa Ghashful is proud to be by the side of the great freedom fighter all the time in her lifetime. The heroic daughter was buried in the village of Sonarpur with due state status under the leadership of Chittagong Upazila Nirbahi Officer Masud Rana on December 24, 2019.  
gay online dating near lynchburg For a long time, Samsun Nahar Rahman Paran, the heroic daughter of the poor freedom fighter, went door to door in various sectors in order to receive the recognition of Khanjani's heroism and appealed for help in different places. Finally, in 2013, in response to the request of Samsun Nahar Rahman Paran, a women's organization called "Naripakkho" signed an agreement for the next two years from 2014 to provide a monthly allowance at the rate of Tk 1,200 per month, which will continue till 2017. As a result, Afia Khatun Khanjani,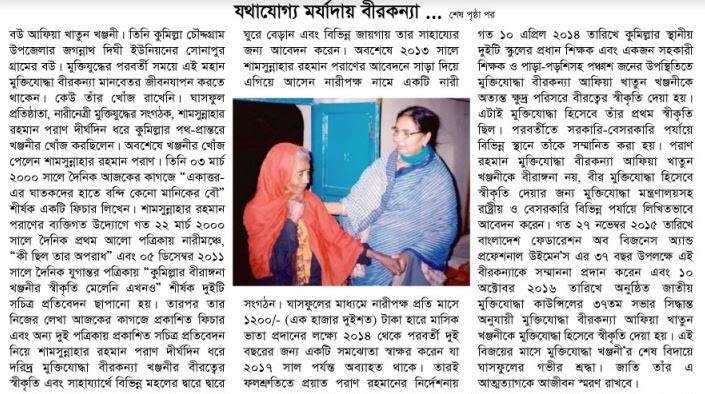 the daughter of the freedom fighters, was recognized on a very small scale on April 10, 2014 in the presence of 50 people, including the headmaster of a local school in Comilla and an assistant teacher and neighbors, under Rahman's direction. She was later honored in various places at the public-private level. Paran Rahman had applied in writing at various levels of state and private, including the Ministry of Freedom Fighters, for recognition of Khanjani as a heroic freedom fighter. On November 27, 2015, the Bangladesh Federation of Business and Professional Women's honored her on the occasion of their 35th birthday. According to the decision of the 37th meeting of the National Freedom Fighters Council held on 10 October 2016, Karna Afia Khatun was recognized as a freedom fighter. In the month of victory, the freedom fighter Khanjani paid her last respects to Ghashful. The nation will always remember her sacrifices.