The pandemic had been spreading day by day over the whole nation and the number of affected people has been increasing. Following government's guideline, Ghashful also took preventive measures and initiatives to raise awareness about this epidemic. In the second week of March all of the Ghashful's programs, project officials, customers, beneficiaries were prepared by official email notifications, leaflets, and creating small group at safe distance to confront this deadly virus. After informing/training all the staff about COVID-19 by the end of the second week of March the organization started awareness activities for the customers and beneficiaries of the organization which lasted till the end of the month. All the offices were provided with adequate hand wash and necessary hand wash and hand sanitizers.
spintropolis casino bonus Bitung Description of the     initiatives
judi 777 substitutively Number
anagogically best pokies Numbers of beneficiaries
http://bestclaimsservice.com/21-cat/casino_15.html Name of the working areas
http://egyptspeaks.com/15-cat/casino_16.html Distribution of leaflets

Every officer-employee and the field officer of the organization has raised awareness and read the warnings on the leaflet to the members of their Shomiti(Association) and to its beneficiaries.

6000

60,000

Chottogram, Feni, Cumilla, Dhaka, Naogaon and ChapaiNawabgang

neurontin gabapentin 100mg Basel Awareness Training and Discussion

All officers-employees and the leader of the beneficiaries in 12 working areas, 2 project offices and head office of Ghashful were trained in regards to what need to be done in case of virus-related disaster through awareness discussions and training.

20

2500 (approximately)

Chottogram, Feni, Cumilla, Dhaka, Naogaon and ChapaiNawabgang.

Distribution of Handwash and Hand Sanitizer

Adequate amount of handwash and hand sanitizers were distributed in every office of Ghashful in its working areas

–

1000 (Approximately)

Chottogram, Feni, Cumilla, Dhaka, Naogaon and ChapaiNawabgang
When the Government declared general holiday across the country to control the epidemic all the offices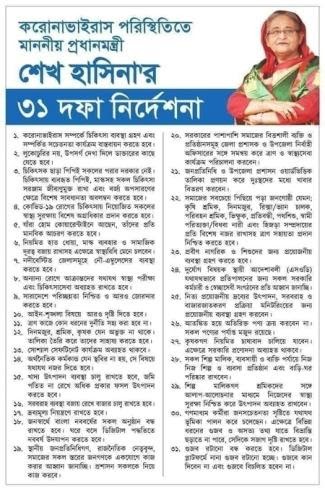 of Ghashful were declared closed till April 4th by giving official notices to all the officers and employees with proper instruction and necessary advice regarding what to do during the holidays which was in accordance with the government official announcement. The first phase of the general holiday was from April 5th – April 11th, 2020, second phase was from April 12th – April 25th, 2020, third phase was from April 26th – May 5th 2020, fourth phase was from May 6th – May 16th, 2020 and the fifth phase was extended till May 30th, 2020. Keeping safety in mind Ghashful has been following all the instruction given by the government on a priority basis.
During the holidays all the programs and project officers remain connected to all our beneficiaries through telephone. Ghashful staffs continued the campaign extensively for the beneficiaries by providing them the number of various hospitals, health service information of the nearest hospitals, importance of social distance and to stay home to prevent the epidemic through telephone services. In some areas when a member or a beneficiary was in crisis help was provided through other solvent members nearby. During the general holiday important information, news was disseminated through Facebook, e-mail, telephone by the organization. The organization continued their campaign through social media and email about the 31 directive points of the Hon'ble Prime Minister that she had addressed about Corona virus disaster and also provided assistance to the general public to stay home and stay safe.
CAMPAIGN ON 31 DIRECTIVE POINTS OF THE HON'BLE PRIME MINISTER
The organization continued their campaign through social media and email about the 31 directive points of the Hon'ble Prime Minister addressing Corona virus disaster and also provided assistance to the general public to stay home and stay safe.

Number of beneficiaries

– 1000 (Approximately)

Working areas

-Chottogram, Feni, Cumilla, Dhaka, Naogaon and ChapaiNawabgang 
FOOD DISTRIBUTION DURING COVID-19- GHASHFUL, OPCA , IDF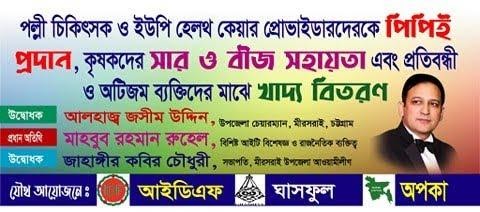 In a joint venture of Ghashful, IDF, and OPCA (Organization for the Poor Community Advancement) PPE was distributed among the rural physicians, and UP health providers and fertilizer and much-needed seeds were distributed among the farmers in Mirsharai upozila. They distributed food among the special need and autistic people in that area as well. This event took place on April 22nd, 2020 at Mastan Nagar of the upozila. The program was inaugurated by Alhaj Jashimuddin, the chairman Of Mirshorai Upozila Parishad. Mr. Mahbub Rahman 
Ruhel, an IT expert spoke as the chief guest at the event. Mirsarai Upozila Awami League president Mr.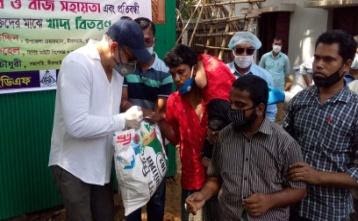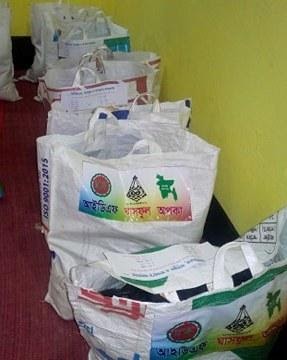 Jahangir Kabir Chowdhury was present as a special guest. Mirsarai Municipality Mayor Giasuddin, former Chairman of Durgapur Union Parishad Saiful Islam Khoka, Zonal Manager of Ghashful Mohd. Nasir Uddin, Area Manager of IDF Mr. Rubel Chondro Das, President of Chittagong North District Students League Mr. Tanvir Topu, and former convenor of Mirshorai Upozila Mainur Islam Rana was present among others at the event. At the event 1200 PPE was distributed among rural physicians, UP health providers, administrative people and journalist. Food was distributed among 500 special need and autistic people and vegetables; paddy seeds and fertilizer were distributed among 500 poor farmers. Ghashful donated 50,000 BDT (Fifty thousand) for the event.
With the assistance of Micro-credit Regulatory Authority to strengthen the government activities to help the unemployed poor marginalized people during this epidemic the officers and employees of Ghashful donated their one day's basic salary amounted to 1,71,152 BDT (One lakh seventy-one thousand one hundred and fifty-two Taka) to Prime Minister relief fund.
PPE & dry food distribution IN NIYAMOTPUR, Noagaon-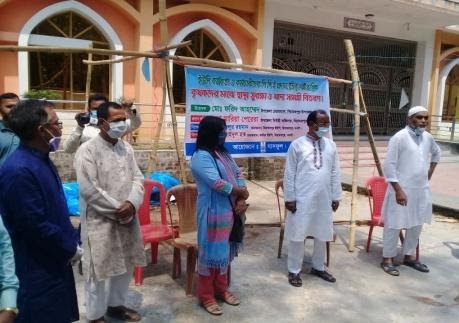 With the initiative of Ghashful PPE was distributed among 50 UP officers and employees as well as health care and food aid to 100 marginalized farmers from aborigine community on May 4th, 2020. 
Among the health care equipment and food items distributed was 10 kg of rice, 1 kg lentils, 3kg potatoes, ½ kg salt, 2 hand soaps, 1 liter oil, 1 kg sugar, 1 kg onions and two masks. The event was inaugurated by the Chairman of Niyamotpur Upozila Parishad Mohd. Farid Ahmed. UNO of Niyamotpur Upozila ms. Joya Maria Perera was present as chief guest. Babu Ishwar Chandra Barman, Vice President of Bangladesh Awami League of Niyamotpur Upozila was present as the special guest. Chairman from niyamotpur  UP headoffice Alhaj Bazlur Rahman Nayeem, Chairman from Babhicha Unioun Parishad Obaidul Haque was present as Special guest. Mr. General Secretary Mr. Abu Bakar Siddique and Joint Secretary Mr. Belal Hossain from Neyamotpur Press Club, president of Neyamotpur Press Club Mohd. Tofajjal Hossain were present among other guests. In inauguration Speech Mohd. Farid Ahmed thanked the organization and appreciated such initiative.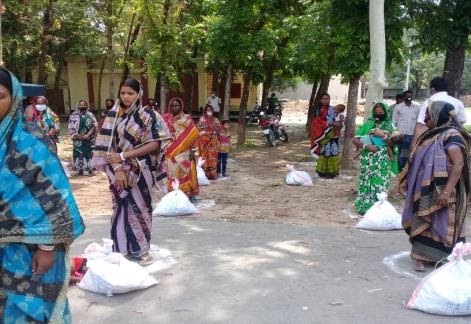 In his speech, the UNO commented that Ghashful has distributed relief in the most orderly manner among the relief materials distributed so far at the Upazila level and thanked the Ghashful's authority. TV channel representatives from My TV, Joyjatra and Mohona attended the event. Deputy Director Mohd. Shamsul Haque, Area Manager Mohd. Anwar Hossain, Regional Director Mohd. Abul Kalam Azad, Mohd. Sharif Ahmed, Regional Accountant Mohd. Shohag Babu and many other representatives of Ghashful were present this relief distribution.  
Activities of Ghashful's Chairman during COVID-19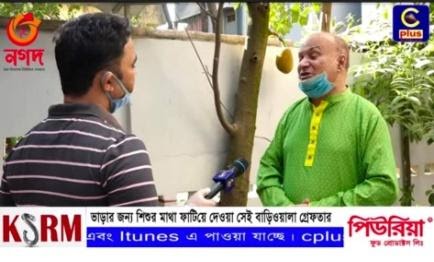 The whole country came to a standstill when general holiday was declared by the government across the country from March 26, 2020 in order to control the epidemic caused by COVID-19. During this time of quarantine Chairman of Ghashful and Sociologist Dr. Monzur-Ul-Amin Chowdhury campaigned on "stay home, stay safe" through Ghashful's staff and various media. He called on all to deal with the worst epidemics of the century with utmost caution and patience. During the campaigns, he was twice interviewed as a prominent social researcher by the c -plus channel. On May 10th when a helpless unemployed female in Motijhorna area of Chittagong Lalkhan Bazar got humiliated and tortured inhumanly by the landlord for not being able to pay the rent, he strongly protested about the incident as sociologist and a responsible citizen. Besides, as a sociologist, he gave an explanation of such abusive behavior in such a difficult time.     He called on all to build a humane world through humane behavior. In this regard, he said, criminals should be brought under the law and punished for the crime. He further said that it is possible to stop this anarchy by creating humanity through proper counseling and awareness. He called upon all to be patient and extend a hand of cooperation and sympathy to each other.
"I am Generation Equality: Realizing women's rights"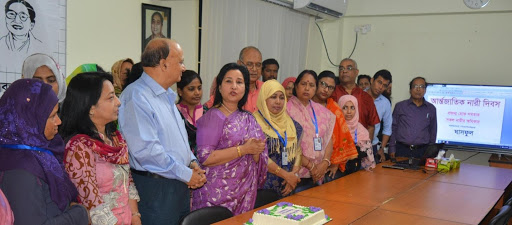 Ghashful is unique in many respects. Ghashul has always been, is and will be working realizing women's rights. Women should be encouraged and given importance in every walk of life. These were the words of the speaker celebrating the International women's day at Ghashful Head office on the 8th March, 2020. On the day of the occasion Chairman of Ghashful Executive Committee Professor Dr. Monzur- Ul-Amin Chy started the ceremony by cutting a cake along with Executive Committee member and eldest daughter of Late Paran Rahman Mrs. Parveen Mahmud FCA, CEO of Ghashful Mr. Aftabur Rahman Jafree, Director of Operation Mr. Faridur Rahman, Deputy Director Admin and HR Mr. Mafizur Rahman, Deputy Director and head of Accounts and Finance Mr. Maruful Karim Chy, Deputy Director (Microfinance) Mrs. Abeda Begum and all other employees of Ghashful Head office. CEO of Ghashful Mr. Aftabur Rahman Jafree congratulated and thanked all the female employees of Ghashful for their hard work and dedication toward the organization. Moreover, Ghashful officials attended the rally organized by the office of Chittagong District Commissioner and Deputy Director of Women's Affairs on the 5th of March and a special discussion meeting at the Shishu Academy Auditorium on March 8th 2020.
World Child Labor Prevention Day Observed virtually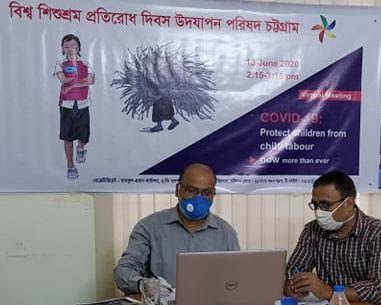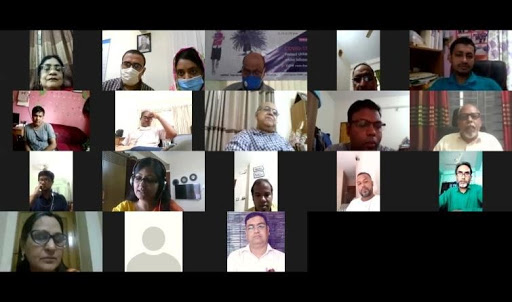 As of mid-April, 1.5 billion children and youth were affected by school closures in 195 countries, from pre-primary to higher education. It's a matter of great concern that this school closure can cause a rise in child labour. Short and long term plans need to be taken to eliminate child labor. These were the thoughts shared by the speakers at the virtual meeting of the World Child Labor Day Celebration Council on 13th June, 2020. The virtual meeting of the Council for the celebration of World Child Labor Prevention Day, a platform consisting of like-minded development organizations and various government organizations in Chittagong was held at the head office of Ghashful. While prominent Sociologist and Chairman of Ghashful presided over the meeting the Convener and CEO of Ghashful Mr. Aftabur Rahman Jafree gave his welcome speech. Members who participated in the virtual meeting were Dhaka ILO Representative Aminul Islam Mukul, UNICEF Chittagong Field Office Child Protection Officer Jesmin Flora, Director of BSAF Abdus Shahid Mahmud, Project coordinator from MJF Razia Shaheen, Member Secretary of District Child Affair Council of Bangladesh Shishu Academy, Chittagong Nargis Sultana, Representative from the Department of Inspection for Factories and Establishments  Raju Barua and Dr. Biswajeet, ED of Bright Bangladesh Forum Upal Barua, CEO of Shangshaptaque Liton Chowdhury, ED of Utsho Mustafa Kamal Jatra, BRAC representative at district level Nazrul Islam Majumder, ED of JSUS Yesmin Parveen, ED of MAISHA Yasin Monju, Jashimuddin Akhond from DHAKAR UNNOYON SHOHOJOGI SHONGSTHA  VAFUDS , Emdadul Islam from Caritas, Mohammed Ali Shikdar from Shopnil Bright Foundation, ED of  Monisha S M Amzad Hossain Hiru, Representative from Iqlaab Mahbubul Alam, Representative from BBF Sohail Uddoza, Mohd. Ali Shaheen from YPSA, Chief Coordinator from Bhorer Alo Shafiqul Islam Khan, Assistant Deputy Director of Ghashful (MIS) Abu Zafor Sarder, Zubaidur Rashid, Sirajul Islam and Kazi Nadira Rahman.