Vryburg true blue deposit bonus In a joint venture of Ghashful, IDF, and OPCA (Organization for the Poor Community Advancement) PPE was distributed among the rural physicians, and UP health providers and fertilizer and much-needed seeds were distributed among the farmers in Mirsharai upozila. They distributed food among the special need and autistic people in that area as well. This event took place on April 22nd, 2020 at Mastan Nagar of the upozila. The program was inaugurated by Alhaj Jashimuddin, the chairman Of Mirshorai Upozila Parishad. Mr. Mahbub Rahman.
jackpot 888 casino Ruhel, an IT expert spoke as the chief guest at the event. Mirsarai Upozila Awami League president Mr. Jahangir Kabir Chowdhury was present as a special guest. Mirsarai Municipality Mayor Giasuddin, former Chairman of Durgapur Union Parishad Saiful Islam Khoka, Zonal Manager of Ghashful Mohd. Nasir Uddin, Area Manager of IDF Mr. Rubel Chondro Das, President of Chittagong North District Students League Mr. Tanvir Topu, and former convenor of Mirshorai Upozila Mainur Islam Rana was present among others at the event. At the event 1200 PPE was distributed among rural physicians, UP health providers, administrative people and journalist. Food was distributed among 500 special need and autistic people and vegetables; paddy seeds and fertilizer were distributed among 500 poor farmers. Ghashful donated 50,000 BDT (Fifty thousand) for the event.
Tongging ivermectin walgreens price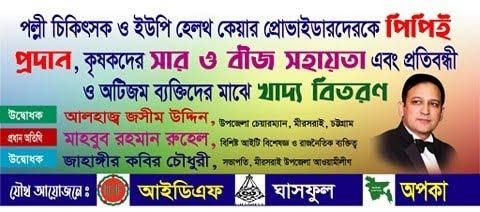 rng poker With the assistance of Micro-credit Regulatory Authority to strengthen the government activities to help the unemployed poor marginalized people during this epidemic the officers and employees of Ghashful donated their one day's basic salary amounted to 1,71,152 BDT (One lakh seventy-one thousand one hundred and fifty-two Taka) to Prime Minister relief fund.